Guest blogged by David Edwards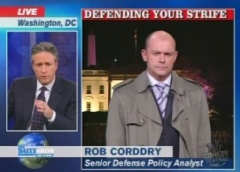 The Daily Show's Rob Corddry reports on the President's Veterans Day speech. Bush attacked Democrats for "re-writing" history and sending "mixed messages" to the troops. The Democrats and others have been critical of the Administration for misusing intelligence and misleading the country into the Iraq war.
Corddry reports that "getting us out of Iraq is going to require tremendous misleadership..." He continues by saying:

"If we were wrong about why we went in; we have to be wrong about why we are leaving.
Otherwise, Jon, it sends the enemy the message that America lacks the will to remain incorrect."
Video in Windows Media format...
Video in QuickTime format...