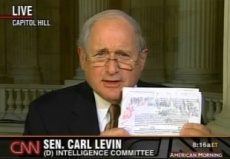 Guest blogged by David Edwards
On Friday, George W. Bush departed from traditional Veteran's Day Presidential speeches by using his speech as a platform to attack Democrats and others who have criticized the misuse of intelligence to justify the Iraq war.
Today, the White House continues its efforts to rewrite history and deny charges that intelligence was cherry-picked to sell an unpopular war to the American public.
Senator Levin was interviewed on CNN this morning where he attempted to correct the record and counter the White House spin.
Video in Windows Media format...
Video in QuickTime format...