With Brad Friedman & Desi Doyen...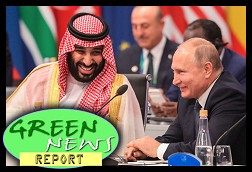 IN TODAY'S RADIO REPORT: Oil prices spike after OPEC+ announces surprise production cuts; Good news and bad news with CA's record snowpack; More deadly tornadoes strike Midwest; PLUS: Biden Admin boosts clean energy in Coal Country, clean manufacturing, and cracks down on toxic mercury and lead water pipes... All that and more in today's Green News Report!

Click here to listen or download MP3
(6 mins)...
Got comments, tips, love letters, hate mail? Drop us a line at GreenNews@BradBlog.com or right here at the comments link below. All GNRs are always archived at GreenNews.BradBlog.com.
IN 'GREEN NEWS EXTRA' (see links below): 'Scary' new data on the last ice age raises concerns about future sea levels; Walmart will add thousands of EV charging stations to stores by 2030; Biden Interior announces $585 million for water infrastructure projects; Montana repeals state energy policy as climate trial nears; Study: Even a small increase in pollution raises risk for dementia; Melting Antarctic ice may strangle vital ocean currents; Bangladesh needs $1.7 billion a year for green energy transition; China slowly squeezing global carmakers out of its massive markets; N.Y. governor walks back push to 'weaken' climate law after uproar... PLUS: A push to turn farm waste into fuel... and much, MUCH more! ...
STORIES DISCUSSED ON TODAY'S 'GREEN NEWS REPORT'...
More train derailments in Montana and Minnesota:
Another deadly tornado outbreak strikes the U.S.:
DOJ sues Norfolk Southern in East Palestine, Ohio over chemical train disaster:
California's record snowpack is both good news and bad news:
Oil prices spike after OPEC+ announces surprise production cuts:
Biden EPA approves CA's heavy truck emissions rules:
Biden touts clean manufacturing in Minnesota:
Biden Administration announces clean energy funding for former coal sites:
EPA tightens limits on toxic mercury pollution from coal plants:
EPA unveils billions for water upgrades, first-ever tally of lead water pipes:
'GREEN NEWS EXTRA' (Stuff we didn't have time for in today's audio report)...
For a comprehensive roundup of daily environmental news you can trust, see the Society of Environmental Journalists' Daily Headlines page