With Brad Friedman & Desi Doyen...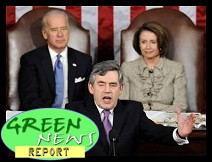 IN TODAY'S REPORT: British Prime Minister Gordon Brown calls on America to lead the way to a global green economy ... Happy birthday to the hybrid-electric car ... Obama vows to return science to the Endangered Species Act ... and a Republican governor proposes taxes on free water!
Got your own green thoughts? Leave 'em in comments, or drop us a line at GreenNews@BradBlog.com! All reports are archived for your listening and reading pleasure at GreenNews.BradBlog.com.
Info/links on stuff we talked about on today's episode, plus MORE green news, all follows below...
--- Click here for REST OF STORY!... ---