With Brad Friedman & Desi Doyen...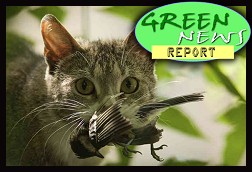 IN TODAY'S RADIO REPORT: Will WA state ship dirty coal to China?; Wacky winter weather strikes the Southeast; Which kills more birds - wind farms or house cats?; ALEC pushes anti-science curriculum; PLUS: A green tech oasis rises in the desert of Qatar ... All that and more in today's Green News Report!
Got comments, tips, love letters, hate mail? Drop us a line at GreenNews@BradBlog.com or right here at the comments link below. All GNRs are always archived at GreenNews.BradBlog.com.
IN 'GREEN NEWS EXTRA' (see links below): Scientist: 69 ft of sea-level rise in motion; Opportunity costs to not using renewable energy; Breakthrough promises solar power cheaper than coal; Study: energy industry water use set to double by 2035; Alaskans try to flee climate change impacts; Fracking, now for uranium!... PLUS: How can Germany be both a green leader and remain an industrial powerhouse? ... and much, MUCH more! ...
STORIES DISCUSSED IN TODAY'S 'GREEN NEWS REPORT'...

'GREEN NEWS EXTRA' (Stuff we didn't have time for in today's audio report)...
---
New Research: World on Track for Climate Disaster:
Essential Climate Science Background: