Guest blogged by David Edwards of Veredictum.com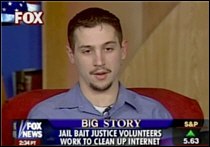 Video in Streaming Flash format...
Video in Windows Media format...
Brian Doyle is the second DHS employee to be recently charged with sexual offenses involving a minor.
Fox News' John Gibson focuses the massive resources of his new organization like a laser. Fox pierces the headlines, bringing their lucky viewers the big picture and the hard unfiltered facts.
Please excuse the sarcasm but this clip is pretty bad. First, Fox under-reports the arrest of a DHS official for sexual offenses. Then, they show their true desire to report on this subject with a nearly laughable interview.
Jane Skinner talks to Michael Blank, an "internet minuteman", with a four day old plan to clean up the net. Skinner highlights Blank's single-page website called JailBaitJustice.com.
JANE SKINNER:
Michael Blank is the founder of Jail Bait Justice. Michael, you started this effort just four days ago. Why did you do it?
MICHAEL BLANK: Well... I was kind of... looking through different settings and I saw people getting raped and stuff like that. Younger women and then I thought, you know, this is just wrong it shouldn't happen... and I thought it was sick so we started looking into the research of the penal code and we went on and we started doing this. I mean, it needs to be done.
Maybe there should be a law preventing the words "fox" and "news" from appearing together.