Guest blogged by David Edwards of Veredictum.com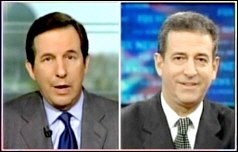 Video in Streaming Flash format...
Video in Windows Media format...
Audio in MP3 format...
Senator Russ Feingold steps over the right-wing talking points in Sunday's interview with Chris Wallace on Fox.
As Wallace sets up each Bush Administraion strawman, Feingold knocks it down with the simple truth. The President should not be allowed to break the law.