Guest blogged by David Edwards of Veredictum.com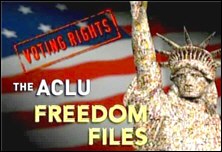 Video in Streaming Flash format...
Video in Windows Media format...
Audio in MP3 format...
This month, the ACLU premiered "Voting Rights". It's the latest in a series of "The ACLU Freedom Files" documentaries. The program premiered March 9th on LinkTV and March 11th on CourtTV.
The "Voting Rights" episode highlights some of the ways in which populations of minority voters have had their political power stifled by officials representing the majority voters. The program calls attention to the pending expiration and continued need of the Voting Rights Act.
This video contains about 9 minutes of clips from the full 30 minute documentary. The ACLU should have the full video for download soon. Check your local listings for additional show times on CourtTV and LinkTV.