Guest Blogged by John Gideon of VotersUnite.org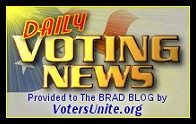 The state of Pennsylvania has announced that they have purged over 200,000 voters from their voter rolls since last November's election. While we understand that up-to-date voter rolls are important, we also know from past purges that there are mistakes made in the process. It is now important that every voter in Pennsylvania check to ensure they were not purged incorrectly. Don't wait until it is too late.
The pressure against suppressive voting legislation in Florida is not letting up. Election Integrity groups, Civil Rights organizations, the media, county election officials and maybe even the Governor have all come out against the legislation we have spoken about in this space over the past couple of days. Let's all hope that the raised voices are heard....
**"Daily Voting News" is meant as a comprehensive listing of reports each day concerning issues related to election and voting news around the country regardless of quality or political slant. Therefore, items listed in "Daily Voting News" may not reflect the opinions of VotersUnite.Org or BradBlog.Com**