Guest Blogged by John Gideon of VotersUnite.org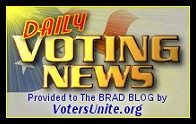 Today begins a couple days of doing the business of keeping ourselves afloat funds wise. We don't get any assistance from any other funders. We are not financially supported by PEW or any other foundation. We rely on the public and their small donations of $20, $50 or $100 to keep us doing what we do. Please help us help our democracy with a donation. The information for how to donate is all located here
Thank you and Happy Holidays....
**"Daily Voting News" is meant as a comprehensive listing of reports each day concerning issues related to election and voting news around the country regardless of quality or political slant. Therefore, items listed in "Daily Voting News" may not reflect the opinions of VotersUnite.Org or BradBlog.Com**