In Case You Missed 'Em.... Important Developments From the Past Seven Days
Guest Blogged by DES...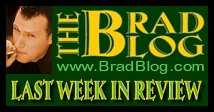 Tragedy and bloodshed visited two very different worlds this week, related only by their utter incomprehensibility, when many souls were lost to violence in Virginia and Baghdad. Last week we spent quite a bit of time contrasting how each was covered in the media: a gusher of emotion over the heroism, selflessness, and senseless loss among the victims of the shootings in Virginia, yet an astounding lack thereof for the hundreds killed in the daily carnage that is today's Iraq. No attention must be paid to flag-draped coffins arriving from our wars; there are few photos and honors for the lives of our soldiers or their families.
Yet even the Bush Administration managed to get in on the act, appearing at the Virginia Tech tragedy in just over 24 hours, beating their own record of four days in responding to Hurricane Katrina. (Perhaps because the university is so near the White House...?) Bush then said at the memorial, in perhaps his all time "greatest" urecognized-irony-laden moment: "Those whose live were taken did nothing to deserve their fate --- they were simpy in the wrong place at the wrong time."
Electronic voting machines, and the U.S. EAC, which is supposed to oversee them, are still a disaster --- as we were reminded, yet again --- this time when ES&S iVotronic machines across America were revealed to have a vulnerability allowing an undetectable voter-flipping virus about which the EAC refuses to alert America. Also, Diebold Whistleblower Stephen Heller offers encouragement for the Honest American confronted with secret wrongdoing --- a must-read during these troubled times.
"Elections have consequences", and it showed most this week when Attorney General Alberto Gonzales was called on the carpet before the Senate Judiciary Committee in a vain attempt to explain himself --- the attempt being in vain because there is no honest explanation for this perversion of justice.
Not to worry --- there still appears to be consequences for actual voter-fraudster Ann Coulter! But if any small good can come from this shameful period in our nation's history --- notably the U.S. Attorney scandal --- perhaps it will be the wide exposure and long-deserved death of the Republican myth of widespread 'voter fraud' --- which we've been covering for years on these pages (literally).
That, however, may be only the tip of the poisoned arrow into the Heart of Justice, as Brad revealed late in the week what could well be the "underlying crime" and direct link to the White House that the wingnuts claim isn't there. Brad tells me there is more where that came from...
There will be more --- do try to keep up. And see below for links to those stories and many others you may have missed at BRAD BLOG last week...
SUNDAY, APRIL 15th...
STEPHEN HELLER: Take a Deep Breath and Blow Hard!
A Whistleblower on Why Whistleblowing Matters, and Why You Should Be One...No Matter the Price...
Guest Blogged by Stephen Heller

The truest act of patriotism is to protect the public from a corrupt and wasteful government. --- TheFirstWhistleblower.org

PAPER: Bush Personally Issued Order to Fire New Mexico U.S. Attorney
David Iglesias Removed Shortly After Phonecall Between Sen. Domenici and 'President'...

Federal Judge Finds Against U.S. Dept. of Justice in Missouri 'Voter Fraud' Case
Democratic Secretary of State Acted Properly, Voter Registration Database Meets Federal Standards, No 'Voter Fraud' Found...

Robert Reich: Not About Email, It's About White House Wanting to 'Make it More Difficult for People to Vote'

The issue at stake here has to do with what the White House was trying to do with the US attorneys. What the White House was trying to do in terms of, perhaps, creating a public image of voter fraud across this country that would entitle the White House to make it more difficult for people to vote. That seems to be to be a very large issue that needs to be discussed.
MONDAY, APRIL 16th...
EXCLUSIVE: ES&S TOUCH-SCREEN VOTING SYSTEMS FOUND VULNERABLE TO 'SERIOUS' VIRAL VOTE-FLIPPING ATTACK; U.S. ELECTION ASSISTANCE COMMISSION REFUSES TO ISSUE WARNING
Scientific Report Finds 'Serious Security Vulnerability' Similar to 'Princeton Diebold Virus Hack' in Widely Used iVotronic System, Allowing a Single Person to Change Election Results Across Entire County Without Detection, Despite GAO Confirmed Mandate to Serve as Info 'Clearinghouse'
Embattled EAC Says They Will Take No Action to Alert Elections Officials, Public
By Michael Richardson and Brad Friedman

16 States Affected by Newly Discovered ES&S iVotronic Touch-Screen Voting System Virus Vulnerability
Since the EAC Refuses to Notify Them, We Hope You Will...
TUESDAY, APRIL 17th...
WEDNESDAY, APRIL 18th...
THE HILL: House Administration Committee Chair, Millender-McDonald, Diagnosed With Cancer
Takes Leave of Absence from Committee Overseeing Holt Election Reform Bill...

233 Killed in Iraq on Wednesday; 183 in Single Incident in Baghdad; More Than 430 Dead Citizens Since Sunday
American Media Stays Fixated on VTech Killings; George W. Bush Still Not in Jail...

35-Year DoJ Civil Rights Attorney Speaks out on Electoral Politicization of DoJ
'Destructive pattern of partisan political action started long before' U.S. Attorney Purge Scandal, Says James D. Rich
RELATED: Anonymous Letter from 'Concerned' DoJ Employees Sent to Judiciary Committees About Political Hirings, 'Litmus Testing' at Justice...

'Daily Voting News' For April 18, 2007, Guest Blogged by John Gideon of VotersUnite.org

The Associated Press reports: "Two computer science professors said they found "significant gaps" in the state investigation into allegations electronic voting machines in Sarasota County failed to count about 18,000 votes in a contested congressional race decided by only 369 votes."
THURSDAY, APRIL 19th...
FRIDAY, APRIL 20th....
The GOP 'Voter Fraud' Scam Finally Exposed to America
Issues Reported by BRAD BLOG for the Last Three Years Hit the Mainstream and Even Get Advanced Several Important Steps by the Times and McClatchy...

Ann Coulter, Advocate for Death, to Speak Tonight with Sam Brownback at Pro-Life Banquet
Queen of Elimination Rhetoric, Hate Speech Joins 'Conservative' Presidential Candidate on the Dais...
Guest Blogged by Daniel Borchers of Citizens for Principled Conservatism


The Original 'Bomb Iran' Video
First Posted in April of 2006...Back When Bombing Iran Was Just a Gleam in John McCain's eye...
...And this one, unlike John McCain's version, is actually amusing. Even if both of them are creepy as hell...
SATURDAY, April 21st...
More Than 1 in 4 Votes Recorded Incorrectly on Diebold System in Cuyahoga County, Finds 2006 Election Audit
Some Ballots Counted Twice, Others Not At All, Database Found Corrupted, Old, Not Recommended for Use by Microsoft
Raw Election Data Held as 'Diebold Trade Secret' by Registrar Michael Vu Who Was Forced to Resign...Though He's Now Been Hired by San Diego!