Guest blogged by David Edwards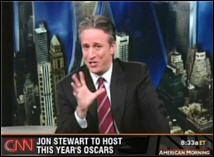 The L.A. Times is reporting that Jon Stewart will be named as host of the 78th annual Academy Awards.
Stewart is expected to take a week off from hosting The Daily Show to prepare for the Oscars.


Video in Streaming Flash format...
Video in Windows Media format...