Also: Prosecutors Considering Indictment for Bob Ney
Guest blogged by David Edwards of Veredictum.com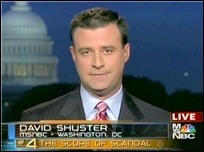 Video in Streaming Flash format...
Video in Windows Media format...
MSNBC's David Shuster has followed the Plame leak case as closely as any reporter working for the corporate media. Last night on MSNBC's Countdown, Shuster reported on the possible indictment of Karl Rove.
Lawyers familiar with the case say that Rove would have been notified that he was no longer a subject of the investigation if Fitzgerald were not pursuing an indictment. Fitzgerald referred to Karl Rove as "official A" in the indictment of Scooter Libby. Shuster reports that in every case where Fitzgerald has referred to a person as "official A", that person was eventually indicted...
--- Click here for REST OF STORY!... ---




( 18 so far... )