Firefighters, Paramedics and Emergency Medical Technicians say they heard Bombs going off in the WTC
Guest blogged by Winter Patriot and Agent99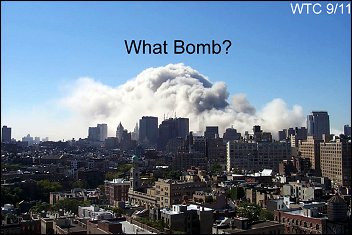 Excerpts from oral testimony provided by NYC firefighters, paramedics and emergency medical technicians, downloaded from this page courtesy of the New York Times, and transcribed by Agent99 exclusively for The BRAD BLOG. These are only a few of many more first responders and others at the scene whose testimony has reference to bombs, explosions, holes in vehicles, burning metal and/or other evidence of controlled demolition. We have added the emphasis. Click on a name to download the full PDF of that person's testimony.
Richard Banaciski, Firefighter (FDNY)
... I just remember we were --- initially we were out by the street and they started having jumpers, so they all kind of moved back towards the building, so nothing could come down on us.
We were there I don't know, maybe 10, 15 minutes and then I just remember there was just an explosion. It seemed like on television they blow up these buildings. It seemed like it was going all the way around like a belt, all these explosions. Everybody just said run and we all turned around and we ran into the parking garage because that's basically where we were. Running forward would be running towards it. Not thinking that this building is coming down. We just thought there was going to be a big explosion.
--- Click here for REST OF STORY!... ---




( 115 so far... )