Guest Blogged by John Gideon of VotersUnite.org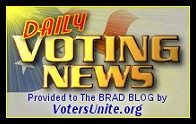 Today many of the articles could have been "Featured" but I chose one because it contains one of what seems to have become Premier/Diebold's requisite half-truth. In our featured article Premier spokesman, Chris Riggall is quoted as saying, "There are no votes that are lost here; the votes remain on the memory cards, and the original ballots still exist." This is all true. The votes remain on the cards and, when voting is done on a paper ballot the original ballots still exist. As factual as this statement is, it does not tell the true story.
The problem with the Premier machines (all of them sold for the last 10 years that use the GEMS software) is that in some circumstances the system will tell the operator that it has downloaded the votes from memory cards but the votes are never downloaded and tabulated. This problem is not readily apparent which is clear because it has existed for 10 years and was only found by accident. One thousand votes would have been lost in Ohio if the problem had not been discovered. How many votes have been lost nationwide over the past 10 years?...
**"Daily Voting News" is meant as a comprehensive listing of reports each day concerning issues related to election and voting news around the country regardless of quality or political slant. Therefore, items listed in "Daily Voting News" may not reflect the opinions of VotersUnite.Org or BradBlog.Com**