In Case You Missed 'Em... Our Most Important Stories from the Last Week
Guest blogged by DES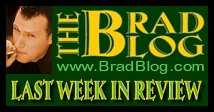 BRAD BLOG Guest Bloggers were on a tear this last week, with Video Master Alan Breslauer doing much of the heavy lifting, and John Gideon of VotersUnite.org keeping you up-to-date on the (apparent) death of the controversial Holt Bill, HR811, among other deeds and misdeeds in the world of elections and politics. Dr. Rebecca Mercuri brought us some verrrry interesting photos and Arlen Parsa weighed in with a weird "Swift-boating"-style campaign video making its way around the intertubes... and a very special shout-out to the makers of Hacking Democracy to congratulate them on their very first Emmy Nomination! (Host a house party and share this stunning documentary with your friends and neighbors!)
All the while, Brad has been blogging from the road and holding down the fort as daily Guest Host of the Peter B. Collins Show, reporting on the big news of the day --- like the dismissal of the Plame civil suit, Impeachment Friday with Cindy Sheehan, and more. Archives from this last week are now posted, so you can catch up on all the breaking news, analysis, commentary, and of course, your calls and comments!
It's all the news that you won't find in the Mainstream Corporate Media, and it's all right here after the jump...
SUNDAY, JULY 15th...
'Red Alert' Sent Over Touchscreen Use In Iowa GOP Straw Poll
Ron Paul Supporters Concerned Diebold DREs Will be Used to Deny 'Groundswell of Support' for Surprisingly Popular Candidate...
Guest Blogged by John Gideon, VotersUnite.Org
MONDAY, JULY 16th...
VIDEO MASHUP: NEOCON Frederick Kagan Lies About Iraq Surge On Fox 'News'
Guest Blogged by Alan Breslauer

VIDEO: Bill Maher Calls Edwards/Obama A 'No-Lose Ticket' On Leno
Guest Blogged by Alan Breslauer
TUESDAY, JULY 17th...
Kucinich Circulates 'Dear Colleague' Letter Asking Pelosi To Slow Progress Of Holt's Election Reform Bill
Says 'Many Constituencies Important to the Democratic Caucus Express Frustration with HR 811'
Bill 'Falls Short of Intended Goals,' Ohio Congressman, Presidential Candidate Writes in Letter...
Guess Blogged by John Gideon, VotersUnite.Org

AUDIO: Ring Of Fire Discussion On RFK Jr.'s 'Live Earth' Speech
Says That Corporations Should Not Be Allowed To Participate In The Political Process
Guest Blogged by Alan Breslauer
WEDNESDAY, JULY 18th...
Wednesday, July 18: The Peter B. Collins Show as Guest Hosted by Brad...
Featuring: Bob Geiger on the Senate Iraq debate and Larry C. Johnson on the National Intelligence estimate and other intelligence chicanery...Larisa Alexandrovna on secret CIA prisons and Alison Parker on mandatory deportation laws...and Election Integrity Hour! John Gideon on decisions coming to a head, Tom Courbat on the latest tomfoolery of the Riverside County, CA Board of Supervisors and Gregory Luke on last week's landmark Alameda County, CA court victory...
THURSDAY, JULY 19th...
Hinchey Says Holt Election Bill 'Has Been Compromised,' Says This Administration 'Most Impeachable in History of Our Country'
New York Congressman Has 'Very Serious Questions' About Election Bill, Says Bush and Cheney 'Have Violated Federal Laws in Criminal Ways'...

'Hacking Democracy' Nominated for Emmy!

Thursday, July 19: The Peter B. Collins Show as Guest Hosted by Brad...
Featuring: Breaking news on the Plame case dismissal, Faiz Shakir on that and the politicization of the Judiciary and Executive branches, "Congresswoman" Christine Jennings announces her intention to run again in '08 and that the GAO will announce their findings on her FL-13 '06 election in a closed door Congressional meeting on July 27...Military affairs contributor Scott Dick and Iraq vet Michael Zacchea on the lack of armored vehicles (MRAPs) for U.S. troops and Zacchea's experience training the Iraqi army... And Election Integrity Hour with John Gideon on the rumored death of the Holt Bill, Robert Carillo Cohen on the emmy nomination for Hacking Democracy and Rebeca Mercuri on the mess that is Election Reform...

The Electric Kool-Aid Voting Test
Guest Blogged by Rebecca Mercuri

Swift Boat Ad Firm Denies Link to Viral, Racist GOP Attack Videos
McCain Camp Reportedly Working With PR Outfit Tied to Apparent Creator of 'JEW-liani' Hit Video
An Elaborate 'Hoax'... or Something More?
Guest Blogged by Arlen Parsa of The Daily Background

What Are the Odds?: FBI Nuke Secrets Sting in Tennessee Comes on Same Day Bush is to Speak in Tennessee

BREAKING: JUDGE DISMISSES PLAME LAWSUIT ON JURISDICTIONAL GROUNDS

NY TIMES: Holt's Election Reform Bill (HR 811) Going Back for a Re-Write
Guest Blogged by John Gideon, VotersUnite.Org
FRIDAY, JULY 20th...
SATURDAY, JULY 21stth...
VIDEO: Chris Matthews Calls Out Bush Administration 'Propaganda' On Leno
Says Bush 'Snookered Us Again', 'Wasn't Even Exactly Elected'
Guest Blogged by Alan Breslauer

Holt Bill Death Watch: Jim Dickson Bullies His Way Through Congress Again
As The New York Times Fails to Report on the Payola He and His Group Have Received from the Voting Machine Companies...