In Case You Missed 'Em.... Important Developments From the Past Seven Days
Guest blogged by DES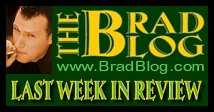 An incredibly busy week this last week went turbo-charged with the sudden re-emergence of the Abramoff Lobbying Scandal, now starring our favorite as-yet-unindicted Republican, Tom Delay's Rep. Tom Feeney (FL-24). Naturally, The BRAD BLOG has been following Feeney's follies for years, along with the heroic efforts of whistleblower, computer programmer, and now challenger for the 24th District, Clint Curtis... Click on our "Special Coverage" to catch up on all the fun in this twisted tale of corruption and vote-rigging...
The scandals continue to roll fast and furious: this last week, The BRAD BLOG exposed the connection between the cynical Republican myth of "voter fraud" and the ongoing scandal of the firings (and near-firings) of U.S. Attorneys. And the extraordinary failures of the Election Assistance Commission were already compounded when they were caught trying to hide and change the results of their own report debunking the Republican myth of "voter fraud", but now they're silencing their researchers when they don't like the results!
It's a "harmonic convergence" of scandals (or a Unified Field Theory of Corruption, if you will, plenty of snarky nicknames for this debacle to go around). Read on, dear reader, and do your best to keep up with this Great Unraveling of the Republican Culture of Corruption.
The headlines from many of last week's most notable articles follow after the jump...
MONDAY, APRIL 23rd...
THE UNDERLYING CRIME: White House Interference into a U.S. Attorney's Criminal Investigation in Missouri
High-Level White House, DoJ, Rove Operatives Went to Work While now-Fired Prosecutor Bud Cummins Was Building a Case Against Missouri Governor Matt Blunt and the WH Connected MO Law Firm Lathrope & Gage...

The U.S. Election Assistance Commission Comes Under Fire
Two MSM Articles Today Detail Long Overdue Congressional Scrutiny Finally Coming to Bear Against the Agency of Presidential Appointees Responsible for Overseeing the Entire U.S. Election System
As well as a Newly Noted Connection Reported Between the EAC and the Politically Appointed Bush Players at DoJ...

FEENEY FINALLY INTERVIEWED BY FBI IN ABRAMOFF CASE
Congressional Aide On 2003 Scotland Golf Junket with Both Men, Pleads Guilty, Is Cooperating With Feds
Corrupt Congressman Has Reportedly Spent $23k on Legal Fees So Far This Year...
TUESDAY, APRIL 24th...
TOM FEENEY FINGERED AS 'REPRESENTATIVE #3' IN FBI FILING
Noose May Finally be Tightening for the Corrupt Florida Congressman
BRAD BLOG HELPS FBI: Lists a Few More Feeney Matters They May Wish to Inquire About...

DEMOCRACY NOW VIDEO: 35-Year DoJ Civil Rights Attorney Offers Insider Perspective Of US Attorney Scandal
Joseph Rich Discusses Politicization of DoJ Voting Rights Unit
ACORN Rep Discusses Vast Right Wing 'Voter Fraud' Conspiracy...
WEDNESDAY, APRIL 25th...
FEENEY UNDERSTATED COSTS OF SCOTLAND GOLF JUNKET WITH ABRAMOFF, ACCORDING TO COURT DOCS
Former Chief of Staff Jason Roe 'Abruptly Resigns' From Romney Campaign as Abramoff Said to be 'Talking so Much He Doesn't Have Time to Eat'
Heat Continues to Build as Everyone Starts Singing in the FBI Investigation of Corrupt Florida Congressman...

'Daily Voting News' For April 25, Guest Blogged by John Gideon of VotersUnite.org

While legislation that would essentially do away with DRE touch-screen voting in Florida ... sailed through the House without problem, a Senate bill has been amended 14 times with amendments that ... try to make it harder for people to vote. Added to the bill were unheard amendments that would limit the ability of groups to register voters and that would prohibit unions from political activity...

Clint Curtis Campaign Calls for Congressional Investigation of His Contested U.S. House Race Against Tom Feeney
Says Panel Must Review 'Hard Evidence' Gathered Showing '12-24% More Votes Than Stated in Official Results'
Vote-Rigging Whistleblower Turned Candidate Says All Four Challenged Races in Florida Must be Investigated by House, Not Just FL-13's Jennings/Buchanan Race...
UPDATED WITH VIDEO
THURSDAY, APRIL 26th...
Writer/Researcher of EAC 'Voter Fraud' Study Says She Has Been Gag-Ordered by the Federal Commission
Tova Andrea Wang, Co-Author of Bi-Partisan 'Voter Fraud and Voter Intimidation Report' for the Election Assistance Commission, Calls for an End to the Censorship in Wake of EAC's Altering of Her Report...
UPDATED

EMAIL SHOWS FEENEY'S OFFICE WAS INSTRUCTED ON HOW TO REPORT GOLF TRIP TO SCOTLAND WITH ABRAMOFF
New Revelation Appears to Counter Corrupt Congressman's Denial That He Was Aware of the Lobbyist's Funding of Overseas Junket...

Waxman Sends Letter of Inquiry on Admin 'Political Briefings' to Federal Agencies
Asks About Mentions of 'Elections or Candidates Provided by White House Officials'...
FRIDAY, APRIL 27th...
SATURDAY, APRIL 28th...
'Daily Voting News' For April 28, Guest Blogged by John Gideon of VotersUnite.org

The state of Texas has taken action to close the elections office in Waller County. The state will be providing monitors who will be closely watching the election process in the county. This as a result of numerous complaints from citizens of the county, including students of Prairie View A&M University, who were disenfranchised last November...