In Case You Missed 'Em.... Important Developments In Your Nation From the Past Seven Days
Guest Blogged by DES...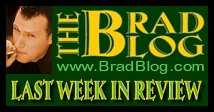 Major movement this past week on the Election Integrity front --- Hackin' Harri Hursti traveled all the way from Finland to speak directly to a "Blue Ribbon" commission on hackable electronic voting machines in Riverside County, California. The testimony from Hacking Democracy's hacker of Diebold optical-scan and touch-screen systems, and his subsequent interview with Brad declaring touch-screen systems a no-go and op-scan systems the most secure and transparent, sent Election Integrity advocates and Holt Bill supporter alike scrambling for new cover...
Diebold Whistleblower Stephen Heller traveled all the way across the San Fernando Valley to tell you (and Brad) firsthand what it's like to be targeted for prosecution by a huge corporation with deep pockets, after you've caught them with their grubby, scheming hands in the election cookie jar...
And The BRAD BLOG steps out in front to exhort the nation's biggest Democratic advocacy groups to grasp the imperative of sending democracy-damaging DRE touch-screen voting machine systems to the toxic waste bin now, before HR811 locks them in permanently.
Read on for why we must demand a paper ballot that is actually tabulated for every vote cast in America. It's seems too common-sensical, I know --- but such is the Bizarro world we live in... Head over to PDA's petition if you haven't already, and add your voice to this fight for truly verifiable elections!
Oh, and don't miss the hilariously misguided (and increasingly incoherent) partisan stylings of Corporate Media Wingnuttery, this week's episodes courtesy of Hume (with a slimy nod to BRAD BLOG) and O'Reilly (with a slimy attack both a 29-year vet as well as Geraldo)...It's better than Saturday Night Live!
That and so much more of the under-reported stories developing hard last week, under the radar of the corporate mainstream media, that will affect you and yours for decades to come. Read on to catch up on what you may have missed --- there will be a test!...
SUNDAY, APRIL 1st...
Obama Gives Away Store: Says Dems Willing to Cave to Bush on Iraq Funding Bill
Negotiation Skills Not Strong Point for the Illinois Senator, Presidential Hopeful...
[UPDATE] Question's Arise Surrounding AP's Reporting of Obama's True Position
[UPDATED AGAIN] Fox 'News'/Brit Hume Quote Us in order to Slime Obama....

Hackin' Harri Hursti a Hit in Riverside County, California
As we Sit Down for a One-on-One Debriefing with the Finnish Computer Security Expert and Discuss American Elections, Rush Holt's Reform Bill, Debra Bowen, 'Black Hats' and Why Elections Matter
Big Turnout and Good Press Coverage Accompany his Riverside Visit, Even if Jeff '1000 to 1' Stone Was a No Show...
MONDAY, APRIL 2nd...
Bush/Cheney/GOP Insider Excoriates Administration in New Book
Vic Gold, Who Wrote Bios for Bush & Cheney Inaugural Program, Joins Mad Rush to Disassociate from 'NeoCons Who Destroyed the GOP'
Says Bush 'Dan Quayle in Cowboy Boots,' Cheney 'Out of Control'...

VIDEO: Bill O'Reilly's Shameful Attack on 29-Year Army and Diplomatic Corp Vet, Ann Wright
In Attempted Ambush Interview, Twisted 'News Man' Spins Her Comments into Accusations of 'Hating Her Country,' 'Blaming America' for Iran/UK Soldier Capture, Cuts Off Her Mic...
Why is This Guy Still on Television?
TUESDAY, APRIL 3rd...
Brit Hume/Fox 'News' Use BRAD BLOG to Slime Obama
Yours Truly Quoted by Name for First Time by Former Newsman Hume...for Comments Against Democratic Presidential Hopeful, Of Course...

Why Nobody Should Ever Have to Trust an Elections Official: Tony Anchundo Reports to Jail
Former Monterey County Registrar of Voters Heads to Jail on 43 Criminal Counts, Stole More Than $80,000 in Tax Dollars from County
Once Told Us We Must Have 'Trust and Faith in Elections Officials, Or In This Case, Me'...

Bob Bennett, Ohio GOP Head and Last Holdout on Cuyahoga County Election Board, Suspended by Brunner
New Charges Announced Against Chair of BoE Who Refused to Resign: He Allegedly Ordered $15k PR Contract Awarded to 'GOP Spokesperson'
WEDNESDAY, APRIL 4th...
France Fears American-Style 'Kafkaesque Balloting' on New Electronic Voting Machines
First Presidential Race to Use Paperless Voting Draws Fear, Protests, Florida Comparisons, ES&S Spokesliars...
Dear People of France: Welcome to our nightmare...
THURSDAY, APRIL 5th...

Diebold Whistleblower Stephen Heller's First Live Broadcast Interview
On Felonies, Diebold, Paper Ballots, Secret Software, Lies, George W. Bush and More
COMPLETE AUDIO/TEXT TRANSCRIPT NOW POSTED...

Washington Post Almost Catches Up With Niger Uranium Story
Three Years Late, Long After the Flawed Senate Intelligence Committee Report, WaPo Finally Fills in a Very Few Blanks on Bush's Infamous '16 Words' Which Led to War
PLUS: A Quick Follow-up on Last Week's 'Bush Admin/WaPo Swift-Boating of Fitzgerald' Story...
*** Blogged by BRAD BLOG D.C. Correspondent Margie Burns

VIDEO: O'Reilly Flips His Lid...
Wow...Just wow. Bill O'Reilly goes Morton Downey Jr.

The GOP's ACORN 'Voter Fraud' Canard Appears Again, This Time in U.S. Attorney Purge Scandal
NM's David Iglesias Pressured by Republicans to Bring 'Voter Fraud' Charges Against Voter Registration Group
But Prosecutor Found No Case Worth Bringing...
FRIDAY, APRIL 6th...
Democrats and Their Public Advocacy Group Supporters Continue to Fiddle on Election Reform as Democracy Burns
Even While the Republican Governor of Florida (of all people and places) Restores Felon Voting Rights, Calls for a Ban on Touch-Screen DRE Voting, and Otherwise Succeeds in Shaming the Democrats...
SATURDAY, APRIL 7th...
Columnist: 'CA Counties Must Install Voting Machines Reliable Enough to Withstand REAL Testing'
Thomas Elias Scores Again...Reports on Orange County Recount Shame, Jeff Stone's 'Riverside Hack Challenge', Voting Machine 'Sleepovers', McPherson's 'Hursti Chicken Out', and Bowen's Call for Real Hack Tests...