Guest blogged by David Edwards of Veredictum.com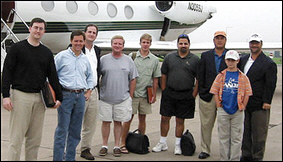 Video in Streaming Flash format...
Video in Windows Media format...
Earlier this week, during the trial of David Safavian, photos were released from one of the Abramoff-sponsored golf trips to Scotland. David Safavian is charged with lying to investigators about his relationship with Jack Abramoff.
The photos show Abramoff with some of his "Champions", a term he used to describe people in government who could provide information and assistance to Abramoff's clients. Champions were showered with gifts and trips like the golf trip seen in the released photos.
In the group photo above, Abramoff's Champions are shown prior to boarding the Gulf Stream jet. Neil Volz, pictured on the far left, was chief of staff to Bob Ney. He is considered a star witness for the prosecution. Standing next to Volz is Ralph Reed, the former head of the Christian Coalition. Congressman Bob Ney is 4th from the left. He is the short guy wearing the grey shirt. Jack Abramoff is on the far right.
This video is from MSNBC's Countdown. David Shuster explains the story behind the photos and the lengths to which Abramoff would go to provide favors for his Champions. Shuster also has an update on the status of the Safavian trial.