Guest blogged by David Edwards of Veredictum.com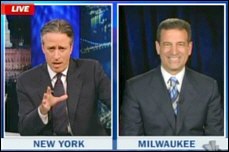 Video in Streaming Flash format...
Video in Windows Media format...
Audio in MP3 format...
Russ Feingold and Jon Stewart both do a great job in this interview. Videos have been floating around the internet since it aired last night. If you haven't seen it yet then it's worth a look.
Feingold:
There is no valid legal basis for this and everybody basically knows it. They're just afraid to stand up to the President. The President needs to hear the voice of Congress and the voice of the American people. You can't make up your own laws.
Stewart: Here's what I like about it... I'm not sure, quite frankly, what censure is. I'm not even sure what a FISA court is. I'm not sure that I feel better that they were looking over the President's shoulder because I don't know much about it but this feels like some attempt at accountability. And that's what I really like about it.
Stewart: Because it seems like the worse you screw up with these guys the bigger the trophy they give you. And I like the fact that you're standing up - even if it's symbolic - that it's an attempt. I appreciate that and I thank you for it.