Combined video feeds from CNN, MSNBC and FOX News...
Guest blogged by David Edwards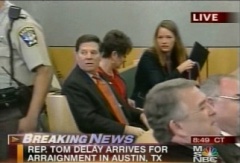 Streaming Video in Real Media format...
Video in Windows Media format...
Just as he did for his mugshot yesterday, Rep. Tom DeLay continued to smile throughout his first day of court today.
In a statement to the media, DeLay said, "You may be surprised to hear this from me today but I find this is a very good day." We are pleased that DeLay appreciates spending time in court and sincerely hope that he continues to enjoy much more of the same.
Today's court appearance was little more than an opportunity for DeLay's legal team to spin the charges against him as partisan. What is most striking is the lack of voices in the media to balance DeLay's spin. Even so, it was a day long anticipated and every moment of the process may be worth savoring.
We have put together some video highlights from CNN, MSNBC and FOX News as they were broadcast live this morning. How do you rate the media's coverage of this event?