And What a Week It Was...
In Case You Missed 'Em... Selected Stories of Note from This Joint Over the Past Seven Days...
Guest Blogged by DES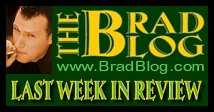 After a brief hiatus, BRAD BLOG'S Last Week In Review returns for a short walk down memory lane, to remind you of the oodles of bloggy fun we've had this week in covering our great adventure in Democracy....
The courtroom has gone quiet for the moment as the jury finished its third day of deliberations to determine the fate of I. Lewis "Scooter" Libby. Meanwhile, the hi-larious hi-jinx of the electronic voting machine companies and Florida's team of Elections Officials filled the void with more ludicrous entertainment!
And, of course we extend our deepest, heartfelt thanks to those who have so generously donated ... YOU help keep The BRAD BLOG going --- we wouldn't be here if it weren't for you (literally). Join in the fun of helping keep the lights on in Bradville! Please donate online via PayPal or credit card, use the blue form at right to sign up for a monthly subscription, or contribute via snail mail. As always, many thanks.
SUNDAY, Feb. 18th...
Complaint Filed With New CA SoS Against San Diego County's Registrar Mikel Haas
Guest Blogger Attorney Ken Simpkins Seeks Your Help in Bringing Accountability to One of America's Worst Elections Officials...

After being stonewalled by the San Diego County Registrar of Voters Office on requests for recounts, information regarding the right to vote on paper ballots, and the results of an audit of the November 2006 election, citizens are taking action.
MONDAY, Feb. 19th...
Please donate online via PayPal or credit card, or use the blue form at right to sign up for a monthly subscription, or contribute via snail mail.

Wilson Didn't Say Cheney Sent Him, Yet the GOP Operatives Keep the Legend Going
The Bush Administration, its Loyal Supporters and Now Even the Washington Post Help Spread the Demonstrably Misleading Canard
But Why?
*** Special to The BRAD BLOG
*** by Libby/CIA Leak Trial Correspondent Margie Burns
TUESDAY, Feb. 20th...
The False Dichotomies Being Used by Democrats and Their Public-Advocacy Group Supporters to Prop Up the Failings of the Holt Election Reform Bill
Misrepresentation of the 'Opposition,' Fear of Failure, and a Bizarre, Unsubstantiated 'Civil Rights' Argument All Employed to Avoid Legitimate Debate on the Dangers of the Pending Legislation...

VIDEO - Chris Wallace's Wingnut Doofus Moment of the Moment
Fox 'News' Host Blows It Big Time in Trying to Support Bush's Flip-Flop on North Korea
Carl Levin Smiles Knowingly...
WEDNESDAY, Feb. 21st...
EXCLUSIVE: REP. MAXINE WATERS ANNOUNCES INTENTION TO WITHDRAW CO-SPONSORSHIP OF HOLT ELECTION REFORM BILL!
Calls for a Return to Paper Ballots During Commemorative MLK, Jr., Keynote Address in Santa Cruz!
California Congresswoman is First of Bill's 192 Co-Sponsors to Pull Support Amid Heavy Criticism of Legislation by Election Integrity Advocates...

'Daily Voting News' Guest Blogged by John Gideon of VotersUnite.org

An article in today's Oakland Tribune relates, "In a blow-by-blow on his school Web page and in a separate filing for an electronic voting lawsuit in New Jersey superior court, computer science professor Andrew Appel [Princeton University] details how he was able to purchase five of the Oakland-based company's AVC Advantage machines off a Web site auctioning government surplus items, pry open the backs and access the computer chips that control the vote count.
THURSDAY, Feb. 22nd...
Sequoia Voting Systems Spokeshole Laugh Line of the Moment...

"Steven Bennet, a Sequoia representative, said Sequoia won't agree to public disclosure [of source code on voting machines] since it would "jeopardize the security to all of our customers in California and across the country."

Where the Libby Trial Came From
Administration coordinated a PR firing squad, put together ad hoc PR hit on the WilsonsThe collateral damage was to classified, objective WMD analysis at the CIA...
*** Special to The BRAD BLOG
*** by Libby/CIA Leak Trial Correspondent Margie Burns

AUDIO - Brad on Air America's 'Politically Direct with David Bender'...
Thanks to David for the overly generous description as "The Paul Revere of the Election Integrity Movement"...
But I'll take whatever I can get! As he said, "One if by land, two if by sea, three if by Brad!"...
FRIDAY, Feb. 23rd...
SL TRIB: Cost for Utah Presidential Primary 'Balloons' from $850k to $3.4 MILLION(!) Due to New Electronic Voting Machines
Nice Going Guys!
(Guess You Shouldn't Have Enjoyed so Many Dinners With Those Diebold Salesmen...)

OFFICIAL FLORIDA AUDIT ON FL-13 RELEASED: Conflicting Conclusions Revealed Despite State Claim of 'No Evidence to Suggest Official Results in Error'
Election Integrity Advocates Contesting Race Call Report 'A Whitewash', Cite Partisan Makeup, Conflict of Interest, Flawed Test Methods of Audit Commission
Two State Reports Released Late Friday Afternoon Reveal Contested Results Imperiled by Extraordinarily Complex Touch-Screen Voting System...

Jennings Says Florida's Audit of Election 'Flawed, Incomplete'
Says State Report 'Provides Even More Compelling Reasons to Seek Investigation'...
SATURDAY, Feb. 24th...
'Daily Voting News' Guest Blogged by John Gideon of VotersUnite.org:

Princeton's Professor Ed Felten said this in regards to the

Sarasota Co. Florida voting machine report

, "Experience teaches that systems that are insecure tend to be unreliable as well — they tend to go wrong on their own even if nobody is attacking them.... Sporadic undervotes are the kind of behavior you would expect to see from a flaky voting technology. The study claims to have ruled out reliability problems as a cause of the undervotes, but their evidence on this point is weak, and I think the jury is still out on whether voting machine malfunctions could be a significant cause of the undervotes."




( 3 so far... )