Guest Blogged by John Gideon of VotersUnite.org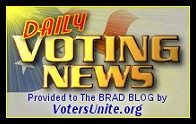 Today's 'Featured' article [PDF] begins, "Florida's Department of State is proposing a few strategically placed words that would gut Florida Statute 104.29, a brief but powerful law that currently offers Florida citizens their greatest protection for election observation. The altered language is buried on page 61 of a 68-page elections bill1 still in draft form, which, as soon as it is finalized, will be presented to the State Legislature for approval.
Also 'Featured' are two press releases (here and here) from Congresswoman Carolyn Maloney's website with regards to new legislation that will help military and overseas voters.
Correction: In this space yesterday I inferred that Humboldt Co had made the decision to move from Premier/Diebold to another vendor based on the problems encountered by the county in the Nov. 2008 elections. In fact the decision to change vendors had been made before that election....
**"Daily Voting News" is meant as a comprehensive listing of reports each day concerning issues related to election and voting news around the country regardless of quality or political slant. Therefore, items listed in "Daily Voting News" may not reflect the opinions of VotersUnite.Org or BradBlog.Com**