Guest Blogged by John Gideon of VotersUnite.org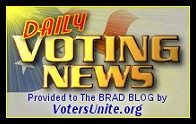 As expected the Minnesota senatorial recount is going to court.
If you have been reading this space for the past couple of weeks you know that auditors have been asked to review the financial records of Buddy Johnson's Hillsborough Co Florida supervisor of elections office. Just why did Buddy, the outgoing supervisor, go to the county and ask for $2.3M for cost overruns? It seems the auditors have found more mysteries than they have found answers....
**"Daily Voting News" is meant as a comprehensive listing of reports each day concerning issues related to election and voting news around the country regardless of quality or political slant. Therefore, items listed in "Daily Voting News" may not reflect the opinions of VotersUnite.Org or BradBlog.Com**