Guest Blogged by John Gideon of VotersUnite.org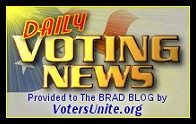 It is now a bit fun watching some previously silent news organizations fall all over themselves as they suddenly recognize that our election process is seriously flawed. Today CNN reported, and many smaller organizations picked up the report, that the GAO released a report this week on voting system testing that finds that the Election Assistance Commission [EAC] has not notified election officials across the country about electronic voting machine failures.
This has been no secret within the Election Integrity community and has been one of our main complaints about the EAC. Voting systems fail and the EAC does nothing about it. They argue instead that none of the voting systems were certified by the EAC so they have no right/mandate to do anything about them. The GAO recommends that congress step in with legislation to force this issue.
We agree but dislike the fact that we have to wait on a snail-slow congress to do anything. CNN also reports on the CommonCause/Century Foundation report that was also released this week and that points to 10 states that they believe will have problems in Nov. My guess is that the "ten states" will grow substantially to 40 or more by election day and on beyond.
Also in the news is that the re-re-recount of ballots in Palm Beach Co Florida is taking place today and tomorrow. One can only guess what they are going to find. Ballots from 2004? Punch cards with hanging chads?
And a member of the Washington DC council has subpoenaed Sequoia for records that may reveal what really happened in the recent primary. Could it be that the council will find that the Sequoia spokeswoman, Michelle Shafer's, declaration that the company is not at fault; "No, no, no" is really "Yes, yes, yes"? ...
**"Daily Voting News" is meant as a comprehensive listing of reports each day concerning issues related to election and voting news around the country regardless of quality or political slant. Therefore, items listed in "Daily Voting News" may not reflect the opinions of VotersUnite.Org or BradBlog.Com**