Guest Blogged by John Gideon of VotersUnite.org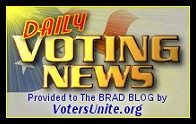 In this space we have mentioned voter registrations many times and asked that everyone check with their state to ensure they are still on the voter rolls. Now the EAC has added their voice with ours. The EAC has also provided a new tool to give the voter more information on who to check with and when is the deadline for registration in each state and territory.
Today the Security Group of University of California at Santa Barbara released a report and a movie on their part in the Top-To-Bottom Review of the Sequoia Voting System....
**"Daily Voting News" is meant as a comprehensive listing of reports each day concerning issues related to election and voting news around the country regardless of quality or political slant. Therefore, items listed in "Daily Voting News" may not reflect the opinions of VotersUnite.Org or BradBlog.Com**