A Rundown of Our Most Notable Stories of the Last Week
Guest blogged by DES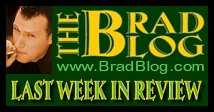 We have a shorter rundown this week due to technology issues (yes, my computer died), but looking at the headlines below, two running themes are clear: rich and famous people really are different from you and me (especially when it comes to enforcement versus prosecution of voter fraud allegations), and no matter how much trouble you may be in, it's good to have friends in high places. And if you're really lucky, the press will help out, too!
Among the big stories this week --- besides the ongoing spectacle of Sad Conservative Clown and Vote-Fraudster Ann Coulter --- the deeply flawed House bill HR 811 sponsored by Rush Holt (D-NJ) passed out of committee minus a crucial amendment to ban the use of touch-screen DRE systems, and the election challenges of Clint Curtis and 3 other Democratic candidates were dismissed by the House Administration Committee (although we've heard it may be coming up for a full House vote later, btw), leaving only the challenge of Christine Jennings in FL-13. We also learned that no matter what else may be going on with those Krazy Kids in Kongress, Russ Feingold will find a way to punch through the fog with another way to keep the ante upped in hopes of ending the disastrous war in Iraq and bringing the troops home.
But things got still worse for the poor voters of San Diego, who have a brand spanking new Registrar of Voters freshly minted from the Diebold Sales Force! (Not kidding.)
Read on, dear reader, read on...
MONDAY, MAY 7th...
EXCLUSIVE: ACORN Takes Control of High-Level GOP Front Group ACVR's Internet Domain Names!
Abandoned Webspace of White House-Connected 'Voter Fraud' Group, 'American Center For Voting Rights', Purchased by DC Attorney; Handed Over to Non-Profit Which They Had Targeted for Years!
As More Allegations of DoJ Corruption in Missouri --- 'Ground Zero' for the ACVR Republican Fraudsters --- Continue to Reach Towards the Oval Office, Underscore Need for Congressional Investigation...
TUESDAY, MAY 8th...
WEDNESDAY, MAY 9th...
Details Released on CA's New, Unprecedented 'Top-to-Bottom Review' and Hack Testing of all Electronic Voting Systems
CA SoS Debra Bowen Names Teams and Methods to be Used for 'First-of-its-Kind in the Nation' Certification, Decertification Process...

'Daily Voting News' For May 9, 2007 Guest Blogged by John Gideon of VotersUnite.org

Brian Chess, chief scientist of Fortify Software [United Kingdom] has gone on record as saying:
"As with any computerised system, e-voting machines can be subject to programming errors and malicious tampering. With evidence in the States clearly showing that the voting machine certification process is flawed, how can any citizen be expected to trust this new system?"
THURSDAY, MAY 10th...
Kansas City Star Claims 'No Disclosure Necessary' Concerning Their Hatchet Job of McClatchy Story on Missouri GOP 'Voter Fraud' Claims
Says Their Legal Firm, Lathrop & Gage, Not Consulted Before Running Altered McClatchy Piece Related to Several Clients, Employees of Firm
Star's Deputy National Editor Explains, Offers BRAD BLOG Contradicted Reason for Delayed Publication...
Guest Blogged by Chris Tackett

Conyers on U.S. Attorney Purge: 'Bread Crumbs Steadily Leading Toward 1600 Pennsylvania Avenue'
Asks 'Who Created Purge List and Why?'
Wexler NAILS the Issue During Gonzo Hearings Today in House Judiciary...
FRIDAY, MAY 11th...
EXCLUSIVE: FBI AGENT WHO INTERCEDED IN ANN COULTER VOTER FRAUD CASE ALLEGED TO BE HER FORMER BOYFRIEND!
Palm Beach Paper Says FBI Agent Attempted to Clear GOP Pundit, BRAD BLOG Guest Blogger Said to be Reason for Fraudulent Info Given on FLVoter Registration Form, Driver's License!
Conservative Coulter Critic Borchers Responds; Says Her '98-'99 Boyfriend Has Been 'Her Personal FBI Resource for Her Own Purposes'...
BREAKING: Former Diebold, Sequoia Sales Rep Named as New San Diego County Registrar of Voters
Joins Recently Named Assistant Registrar Michael Vu, Whose Cuyahoga County Elections Led to Criminal Convictions in '04 Presidential Recount and New '06 Criminal Investigations...
Guest Blogged by John Gideon

AP FAILS AGAIN: 'Coulter Cleared in Florida Vote Probe,' According to Unbylined Article
Report Doesn't Bother to Mention Inappropriate FBI Interference in Case, or Internal Investigation That's Begun Because of It...
How Lazy Can These People Possibly Get?!
SATURDAY, MAY 12th...
Republican Rep. Patrick McHenry's Aide Indicted for Voter Fraud
'04 Campaign Coordinator Voted Twice, and in Wrong District, in '04 Primary Decided by 86 Votes
But as BlogActive Reports, That's Not All the Congressman May Have to Worry About...

'Daily Voting News' For May 12, 2007

Michael Shamos is a professor at Carnegie Mellon University, the Pennsylvania state voting machine examiner, and a proponent of paperless voting systems. He is also the man who offered a reward to anyone who could hack a voting machine. In late April the university held student-body elections but all 1,933 votes are inaccessible because someone, either on purpose or by accident depending on who is being asked, tampered "with the electronic key used to encrypt and decrypt the results."