In Case You Missed It...Here's What Ya Missed...
Guest blogged by DES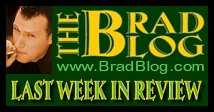 The twin buzzwords of "Oversight" and "Accountability" reared their sleepy little heads this week, as Democrats in Congress began the long, slow slog of uncovering just what has been going on during the Republican hegemony that has been U.S. Government over the last six years. Sad wingnut clown Ann Coulter spewed some more bile, eagerly lapped up by her wingnut fans at CPAC (scads of conservatives in attendance, but strangely, no military recruiters --- why is that?). The jury's still out on the Libby-CIA Leak Case trial, but BRAD BLOG's Special Correspondent Margie Burns from D.C. has uncovered some interesting connections while drilling down into court documents.
And oh, yeah --- that Election Reform juggernaut just keeps on a-coming, with revelations from a new study this week that's chock full of those pesky facts that make voting machine companies, elections officials, and Democratic supporters of the Holt Election Bill (like Common Cause and PFAW) feel all queasy... Enjoy!
SUNDAY, Feb. 25th...
LIBBY TRIAL: Bush Admin Targeted
Wilson's Wife Long Before Wilson's Article Published in NY Times
Trial Docs, Testimony Reveal Admin Reasons for Outting CIA WMD Analyst May Be More Than Simple Retaliation Over 'Yellowcake' Op-Ed...
What Were They REALLY After?
*** Special to The BRAD BLOG
*** by Libby/CIA Leak Trial Correspondent Margie Burns
MONDAY, Feb. 26th...
REPORT: Undervote Rate Plummets 85% in New Mexico's Native American Precincts after Statewide Switch from Touch-Screen Voting to Paper Ballots
Comparison of Voting Data from 2004 to 2006 Shows Hispanic Undervote Plunged 69% as the 'Civil Rights' Case for DREs Continues to Fall Apart
ALSO: New Concerns Emerge About Racial Profiling vis a vis Touch-Screen Voting Systems...

"We were looking for any impact the change to paper ballots may have had on New Mexico's historically high undervote rate. When we found the dramatic drop in Native American precincts, we were shocked," says New Mexico's Theron Horton. The Election Defense Alliance (EDA) activist added, "something was going on with the DREs in those precincts in 2004."

EXCLUSIVE: California SoS Finds No State Law to Prohibit Proposed Riverside County 'Hack Test' of Sequoia Touch-Screen Machines!
But Secretary Bowen Says Board of Supes Proposed 'Ground Rules' for Test 'Overly Narrow,' 'Would Prove Little and Give Voters False Sense of Security'
Supervisor Stone's Hope for SoS Participation in '1000 to 1' Bet with Election Integrity Advocates under Unilateral, Unrealistic Restrictions Flatly Rejected by State's New Election Chief...
TUESDAY, Feb. 27th...
Doing Comedy for Fox 'News'? 'It's Just a Job' Says the Not-Necessarily Right-Wing Actor Jonathan Mangum...

So now, with FNC even beginning to run dry on phony outrage, in the latest desperate Fox "News" Hail Mary attempt to fill 30 more minutes of their 24 hour broadcast day with anything but actual news, they've shamelessly set aside all pretense by choosing to fill those 30 minutes with attempts at satirical comedy. Sort of. Not even CNN or MSNBC has crossed that rubicon. Yet. But give 'em time.
...
Imagine my surprise then, when halfway through the thing, an old acting colleague of mine showed up in one of the mid-show sketches. The first question that popped to mind when I saw Jonathan was, "What the hell must he have been thinking?!"
WEDNESDAY, Feb. 28th...
VIDEO: Florida Governor Crist Discusses Election Problems, Wolf Blitzer is a Brainless Dolt
Wolf Blitzer asks Florida's new Republican Governor Charlie Crist if there could be a replay in 2008 of the "2000 election fiasco?"

CIA LEAK CASE: Dear Mr. Cheney --- Know Anybody in Marseilles?
One Week After the Bush-Cheney Cabal Learned About a Port That Shipped Uranium...A US Agency Found Uranium There!
What Were the Odds?
*** Special to The BRAD BLOG
*** by Libby/CIA Leak Trial Correspondent Margie Burns
THURSDAY, March 1st...
Brad, Common Cause Debate Rush Holt Election Reform Bill on 'Peter B. Collins Show'
Common Cause Election Issue Rep Relies on Same Old Discredited Talking Point Chestnuts to Avoid Calling for Ban of DRE/Touch-Screen Voting Machines
Link to Complete Text-Transcript, Audio...

JUDICIARY COMMITTEE ISSUES SUBPOENAS IN U.S. ATTORNEY FIRING SCANDAL
First Subpoenas Issued by Dems Since Taking Control of Congress...

"The former U.S. Attorneys are alleging very serious charges against the Administration and we need to hear from them," Judiciary Chairman John Conyers (D-MI) says in his statement. "We want to hear their stories and we want the Administration to address the charges head on so that we can get to the bottom of this."
FRIDAY, March 2nd...
Ann Coulter Suggests John Edwards a 'Faggot' at Country's Most Important 'Conservative' Political Conference
The Hate-Monger, Apparent Vote Fraud Felon Continues her Pathetic Downward Spiral Today in D.C. at CPAC...

'Daily Voting News', Guest Blogged by John Gideon of VotersUnite.org

In a disturbing article from Chicago, IL, it is revealed that Cook County will pay Sequoia for their voting machines based on a sliding scale that will be controlled by how quickly machines transmit results to election headquarters and also by how quickly those votes can be tabulated. The county does not seem to care as much about accuracy or security as it does for speed.
SATURDAY, March 3rd...
EXCLUSIVE: JOHN EDWARDS SAYS 'YES' TO BAN ON TOUCH-SCREEN (DRE) VOTING MACHINES!
Presidential Candidate Becomes First to Join Growing Movement When Queried About Issue at Campaign Event in California
Edwards Becomes Second Politician in a Week to Announce Support for the Election Integrity Movement After Being Asked About it at Public Event

'Daily Voting News', Guest Blogged by John Gideon of VotersUnite.org

Miller Co. Arkansas Election Administrator Robby Selph resigned from his job saying this about Election Systems and Software, "The reason I am leaving is the provider of the Ivotronics and related software lacks competency to make their equipment work timely and effectively. They ... make a difficult job impossible to do. They can't spell, meet deadlines, send documents to the right address or code elections correctly. They leave races off the ballot for us to correct, they can't program their software to work and you have to hand add the results. And they don't return phone calls...