Tony Snow's Denial May Haunt Him As First Lie While Press Secretary
Guest blogged by David Edwards of Veredictum.com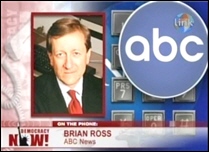 Video in Streaming Flash format...
Video in Windows Media format...
Audio in MP3 format...
This video provides some background to a special story posted on THE BRAD BLOG yesterday, by White House Correspondent Eric Brewer of BTC News. During a White House press conference, Eric Brewer asked about reports of the Patriot Act being used to spy on journalists. The video is an interview with ABC's Brian Ross who first reported that the Patriot Act is being used to spy on journalists.
White House Press Secretary issued a rather weak denial. Snow denied that National Security Letters, enabled by the Patriot Act, were being used to spy on journalists. He then said that National Security Letters were only concerned with Foreign to Domestic calls so "the pieces just don't add up." (see: Eric Brewer's article for Snow's full response.)
Snow's answer was misleading and possibly wrong. The FBI can issue National Security Letters (NSL) to collect personal records for a target and all of that target's contacts. In this way, a single NSL can collect records for a social network of hundreds of people. Organizations that are ordered to hand over their customer's information via an NSL are immediately gagged from revealing the NSL to anyone. Last year, the FBI targeted about 3500 Americans using NSL's without a warrant or the approval of any court. The FBI investigates domestic crimes; NSL's issued by the FBI are certainly being used to spy on Americans.
In this video, Amy Goodman of DemocracyNow! interviews ABC's Brian Ross who was first to report that the federal government was spying on ABC News and other media organizations. Some of what Ross says is truly shocking and should give every American pause.
The video consists of about 7 minutes of clips from the Brian Ross interview. The entire 16 minute interview is available at DemocracyNow!.
Keep reading for a few selected quotes from the Ross interview...
BRIAN ROSS: Well, to start with, we were warned --- Rich Esposito and I were warned last week that
the government was aware of who we were calling and that we should quickly get new cell phones
that didn't come back to our names. An insider told us, a friendly insider who did not necessarily think this is a good idea. It was clear to us that somehow the government knew our records. We were told our phone calls weren't being recorded, but just who we were calling. Now, in terms of trying to track down insiders at the government who are providing us with information, that's really about all they need. That's how they essentially tracked down Mary McCarthy at the C.I.A. and got her in a polygraph and fired her based on who she was making contact with. This, for us, is quite chilling... But under this administration,
what used to be hard to do, in going after reporters and their phone records, is now easy
.
[..]
And they do this, they say, legally. What that means is
they use a provision in the PATRIOT Act
--- which is designed to go after terrorists, but they're using it to go after reporters --- what they call a national security letter. Essentially, it's a letter an F.B.I. agent writes, takes it to a phone company --- or anywhere, really --- but takes it to a phone company, and the phone company is then required under the provisions of the PATRIOT Act to turn over the information, and also a phone company is required not divulge to the customer, me or anybody else, that the records have been sought by the government.
[..]
AMY GOODMAN: Brian Ross, is this changing the way you work?
BRIAN ROSS: Absolutely. I mean, this makes it very, very difficult. And, you know, you sort of have to start thinking, I guess, like some sort of Mafia capo. You make your phone calls with bags of quarters at pay phones, if you can find them anymore. It's chilling, to say the least, and I guess I've concluded that this requires, you know, on my part, your part, all of us who are reporters and care about the truth, really reporting on this subject, and I don't think it's self-centered. I think it's important that everyone know this is what's happening and, you know, let Americans decide if that's how they want the government to operate.