Guest blogged by David Edwards of Veredictum.com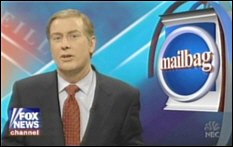 Video in Streaming Flash format...
Video in Windows Media format...
"You're watching Fox News. America's Top News Source... for White People."
Bill O'Reilly takes us into the "No Spin Zone" for meaningless interviews of Seymour Hersh and Newt Gingrich. SNL's O'Reilly spits out almost as many incorrect facts as the real Bill.