Guest blogged by David Edwards of Veredictum.com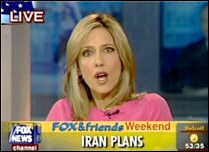 Video in Streaming Flash format...
Video in Windows Media format...
In a recent article, published by the New Yorker, Seymour Hersh presents Bush Administration plans to take military action against Iran. According to Hersh, high ranking members of the Administration are advocating the use of nuclear weapons in an initial air strike on Iran.
This morning, Fox News anchors attempted to trash Hersh's reputation and defended the use of nuclear weapons on Iran.