Guest blogged by David Edwards of Veredictum.com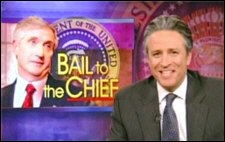 Video in Streaming Flash format...
Video in Windows Media format...
The Daily Show's Jon Stewart pokes fun at Bush's White House 'shake up' and exposes more ridicules Bush Administration deceptions in the process.
Stewart is not impressed with Bush's pick for Chief of Staff:
STEWART:
... Joshua Bolton who has been working in the White House for Bush's entire Presidency. He spent two years working under Andy card. The last three years he's been in charge of the Office of Management and Budget.
In other words, he just gave a promotion to the guy who is in charge of our $9 trillion debt.
You know what? I really think if you walked into a cabinet meeting and started hurling your feces at the wall --- Bush would name a state after you.