Guest blogged by David Edwards of Veredictum.com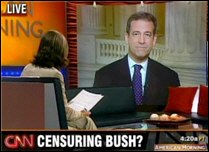 Video in Streaming Flash format...
Video in Windows Media format...
Audio in MP3 format...
CNN's Soledad O'Brien proved to be an effective proxy for the GOP noise machine as she challenged Feingold's proposed censure of Bush with flurry of misleading Republican talking points.
Not to be too critical of Soledad but she may be in over her head by sparring with Senator Feingold on the subject of illegal wiretaps.
Senator Feingold introduced the censure proposal yesterday on ABC This Week. You can see the full interview with George Stephanopolous here.
Feingold is expected to introduce the censure resolution in the Senate today.