Guest blogged by David Edwards of Veredictum.com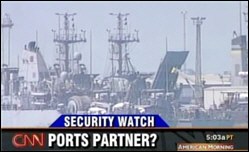 Video in Streaming Flash format...
Video in Windows Media format...
Various sources are reporting that a Halliburton subsidiary may take over the U.S. ports for Dubai Ports World.
ThinkProgress noted that AEI scholar Norm Ornstein mentioned the Halliburton possibility on last night's PBS Newshour. On Hardball, Richard Wolfe mentioned Halliburton.
In an article published by Time, Daren Fonda explains an existing business relationship between Halliburton and another UAE owned company that is providing services for U.S. Navy Ships.
Halliburton denies the rumors.