Guest blogged by David Edwards of Veredictum.com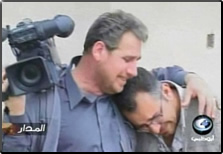 Video in Streaming Flash format...
Video in Windows Media format...
As violence surges in Iraq, the death toll for journalists has risen to a new high. Depending on the source, between 76 and 82 journalists have been killed since the war began.
While covering the bombing of a revered Shi'ite mosque, Al-Arabiya's Atwar Bahjat and two of her colleagues were shot by two gunmen. Atwar Bahjat had recently left the Al-Jazeera television network for pro-American Al-Arabiya network. She was widely known and respected in the Arab world.