'Prisoner Mistreatment was a Bush Policy Decision'
Guest blogged by David Edwards of Veredictum.com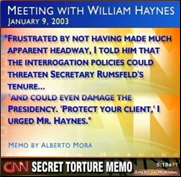 A recently revealed secret memo from general counsel of the U.S. Navy warned the Bush Administration to halt the "disastrous and unlawful policy of authorizing cruelty toward terror suspects."
The memo shows that torture and abuse of detainees was a policy of the Bush Administration despite legal warnings from lawyers within the Military. Determined to continue the abusive policies, the Bush Administration sought out legal opinions which allowed them to go "above the law."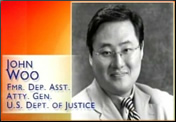 The New Yorker exposes the secret document (PDF) in a newly published article by Jane Mayer. In an interview with CNN American Morning, Mayer said:

It's clear that [the Bush Administration ] were consistently resisting any criticism on this... instead of listening to [the Navy counsel], they basically found another lawyer, somebody in the Justice Department named John Woo, who told them what they wanted to hear which was
they could pretty much do anything they wanted
.
It was a policy decision on their part. This wasn't an accident - what happened at Guantßnamo and what later happened at Abu Ghraib in terms of mistreatment of prisoners. They did this with their eyes wide open.
UPDATE: The name in CNN screenshot above should be spelled "John Yoo" instead of "John Woo". For more information on the history of torture policies in the Bush Administration and John Yoo, check out this video from the CBC report "A Few Bad Apples."

Video in Streaming Flash format...
Video in Windows Media format...