One-Time War Supporter, Vietnam Vet, Calls for 'Change in Direction'
Says 'American Public Ahead of Congress' on War Debate, Its 'A Flawed Policy, Wrapped in Illusion' Hurting Our Military Preparedness, Budget
Guest blogged by David Edwards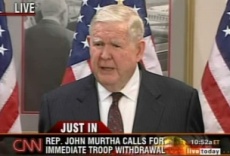 Representative John Murtha (D-PA), a Vietnam veteran, is known for support of the Pentagon and the Iraq war. Today, he called for the immediate withdrawal of troops from Iraq.
Murtha is the top Democrat on the Defense Appropriations Subcommittee. He explained that the American people are ahead of congress on this issue. Murtha choked back tears as he explained the failures of the Iraq war that lead him to call for the immediate withdrawal of troops.
AP reports on Murtha's speech:

"This is the immediate redeployment of American forces because they have become the target," said Rep. John Murtha, D-Pa., one of Congress' most hawkish Democrats. At times during his remarks to reporters, the decorated Vietnam War veteran was choking back tears.
"It is time for a change in direction. Our military is suffering, the future of our country is at risk. We cannot continue on the present course. It is evident that continued military action in Iraq is not in the best interests of the United States of America, the Iraqi people or the Persian Gulf region," Murtha said.
...
Murtha voted to give the president authority to use force against Saddam Hussein in 2002. In recent months, the top Democrat on the House Appropriations Committee defense panel has grown increasingly troubled with the direction of the war and with the Bush administration's handling of it, particularly following reports of secret CIA prisons in Eastern Europe.
"The war in Iraq is not going as advertised. It is a flawed policy wrapped in illusion," Murtha said.
Video in Windows Media format...
Video in QuickTime format...
Audio in MP3 format...
UPDATE: Stakeholder has the full text transcript of Murtha's speech, along with the text of his resolution. Right here...