And the White House's Tortured Logic on Anti-Torture Legislation...
(Fox "News" is, of course, Simularly Tortured in Attempting to Defend Their Torturing Leaders)
Guest blogged by David Edwards
As we reported on Monday, President Bush categorically denied that the United States uses torture while implying that interrogators would use any means necessary in the name of protecting Americans. Meanwhile, John McCain has been advocating a bill, recently passed 90 to 9 in the Senate, outlawing torture in all cases.
Already, President Bush has threatened to veto the bill but that may not be possible given Bush's waning popularity. Vice President Cheney is now arguing to exempt the CIA from the torture legislation. So, how does the GOP explain this position to the American people... "We're against torture and we're against outlawing it (wink, wink, nod, nod)."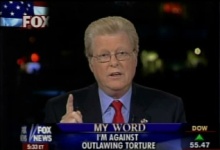 John Gibson hosts Fox News' Big Story. In this video clip Gibson interviews Reagan's National Security Advisor, Robert McFarland, who seems to agree with the new torture law. Of course, Gibson offers his own contrary yet confusing opinion about the torture bill. He starts by saying "I'm with John McCain on this..." and then goes on to confound his audience by saying:


It has been revealed that the U.S. maintains a string of secret prisons (well, they're not secret now) in Eastern Europe where we have stashed captured Al Qaeda guys and I'm not in favor of telling these guys what we won't do to them.

...
In my way of thinking, the benefit gained from telling the world that we have a law that forbids torture is outweighed by the bad guys knowing that we have a law that forbids torture.

...
For the record, I'm against torture. I'm also against outlawing it. These are not mutually exclusive concepts. It may take a nimble mind to manage both ideas but I assure you, it's worth the effort.

A nimble mind, indeed.

Video in Windows Media format...
Video in QuickTime format...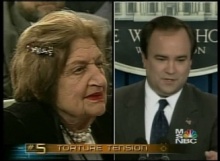 The White House press corps seemed to also pick up on the discrepancy between President Bush's torture denial and Vice President Cheney's desire for an exemption allowing torture by the CIA. MSNBC's Countdown put together this clip of reporters trying to get an explanation from White House Press Secretary Scott McClellan. Howard Fineman of Newsweek calls McClellan's attack on reporters "Nixonian".

Video in Windows Media format...
Video in QuickTime format...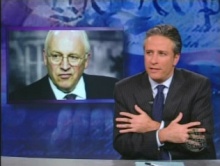 Jon Stewart acknowledges the torture confusion. He asks Ed Helms about the "ticking time bomb" scenario. TV Shows like the Fox series 24 depict torture as the the dramatic solution while most experts believe that torture provides dubious intelligence under any circumstance. Who are you going to believe? Kiefer Sutherland's character, Special Agent Jack Bauer or "the experts"?

Video in Windows Media format...
Video in QuickTime format...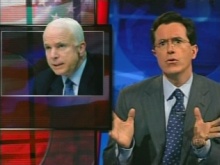 Stephen Colbert's sarcasm puts the issue into perspective. Colbert asks if John McCain's prisoner of war status gives him the moral authority to advocate for an anti-torture bill. After all, Colbert points out, the president's remarks on the subject sum up the administration's lack of clarity. Is the strategy here to simply confuse the American people into ignoring this issue?