With Brad Friedman & Desi Doyen...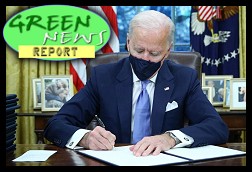 IN TODAY'S RADIO REPORT: GNR Special Coverage: Democratic President Joe Biden and Vice President Kamala Harris take office and get right to work, renewing hope for meaningful U.S. climate action... All that and more in today's Green News Report!
Got comments, tips, love letters, hate mail? Drop us a line at GreenNews@BradBlog.com or right here at the comments link below. All GNRs are always archived at GreenNews.BradBlog.com.
IN 'GREEN NEWS EXTRA' (see links below): Greta Thunberg pokes Cruz in tweet welcoming US back to Paris accord; US Rejoins the Paris Agreement, but Rebuilding Credibility on Climate Action Will Take Time; Could Baltimore's Climate Change Suit Become a Supreme Court Test Case?; Bernhardt Rescinds Wilderness Protection Order Before Leaving Office; Electric Car Batteries With Five-Minute Charging Times Produced... PLUS: Northwest's Salmon Population May Be Running Out of Time... and much, MUCH more! ...
STORIES DISCUSSED ON TODAY'S 'GREEN NEWS REPORT'...
President Joe Biden calls for unity to solve the climate crisis:

Joe Biden's inauguration speech transcript, annotated (Washington Post):


Folks, this is a time of testing. We face an attack on our democracy and on truth, a raging virus, growing inequity, the sting of systemic racism, a climate in crisis, America's role in the world. Any one of these will be enough to challenge us in profound ways. But the fact is, we face them all at once, presenting this nation with one of the gravest responsibilities we've had. Now we're going to be tested. Are we going to step up? All of us? It's time for boldness, for there is so much to do. And this is certain, I promise you: We will be judged, you and I, by how we resolve these cascading crises of our era.

Biden signs slew of executive orders, rebuking Trump's policies and rollbacks:
Biden plans more executive actions in coming days, weeks: