The Corporate Media Ignores More U.S. Human Rights Abuses
Guest blogged by David Edwards of Veredictum.com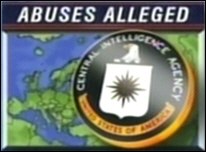 Video in Streaming Flash format...
Video in Windows Media format...
Audio in MP3 format...
Earlier this week, a European Parliament committee released a report saying that the CIA had illegally detained people and used secret 'rendition' flights to transport them to other countries or secret CIA prisons where they were expected to be tortured.
Several members of European Parliament met in Macedonia today to investigate the story of Khaled El-Masri, a German citizen, who was abducted by the CIA. After being kidnapped, he was then 'rendered' to a U.S. prison in Afghanistan and held for 5 months.
--- Click here for REST OF STORY!... ---




( 12 so far... )