With Brad Friedman & Desi Doyen...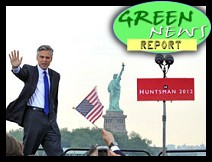 TWITTER: @GreenNewsReport
VIA SMART PHONE: Stitcher Radio!
IN TODAY'S RADIO REPORT: Another Republican global warming non-denier enters the 2012 race; US solar industry now employs more people than the US steel industry; Bad news for the world's oceans, good news for those who like to lie about them; PLUS: Inspiration and dedication from the antidote to cynicism, Van Jones ... All that and more in today's Green News Report!
Got comments, tips, love letters, hate mail? Drop us a line at GreenNews@BradBlog.com or right here at the comments link below. All GNRs are always archived at GreenNews.BradBlog.com.
IN 'GREEN NEWS EXTRA' (see links below): Yep: Artificial Meat Made From Poo; US Nuclear Plant Safety Rules Inadequate; Humans 'blissfully unaware' of coming climate crisis; Google invests in home solar; Japan Strains to Fix a Reactor; Flooding Brings Worries Over Two NE Nuclear Plants; Radioactive tritium leaks found at 48 US nuclear sites; US nuke regulators weaken safety rules; Japan Stops Water Treatment at Fukushima After Radiation Spike; 'Ominous Trends' in Atrazine exposure, but no proof; CO tests fracking in surburbia; Supreme court rejects states' global warming lawsuit; Rain-hit China braces for more storms; Gas Pipeline Industry Funds & Shapes Pipeline Safety Studies; Arctic Oil Spill Would Challenge Coast Guard; Ultra-efficient solar cells copy plants' 'quantum biology'; Armadillos Move North; Public Skeptical on Climate Change, Scientists Sure ... PLUS: NOAA Makes It Official: 2011 Among Most Extreme Weather Years in History ...
STORIES DISCUSSED IN TODAY'S 'GREEN NEWS REPORT'...

US Solar Industry Now Employs More People Than US Steel Industry:

Green jobs are real: U.S. solar employs more people than steel (Think Progress Green) [emphasis added]:


People want to know: Are green jobs real? The answer is resoundingly "yes."

With roughly 93,500 direct and indirect jobs, the American solar industry now employs about 20,000 more workers than the U.S. steel production sector. The American steel industry has historically been a symbol of the country's industrial might and economic prosperity. But today, the solar industry has the potential to overtake that image as we build a new, clean-energy economy.

Sorry, McCain: NO Evidence that Record AZ Fire Caused By Illegal Immigrants
Grand Canyon Is Safe From New Uranium Mining, For Now

Obama Administration to Ban Uranium Mining at the Grand Canyon: 'TR is Smiling' (Forbes):


[T]he Obama administration will enact a 20-year ban on new uranium mining in the last remaining unprotected lands surrounding the place President Theodore Roosevelt called "the one great sight which every American should see."

Salazar said more study is needed before finalizing the withdrawal of the million acres of land around the Grand Canyon. A two-year moratorium that would have expired in weeks has been extended until December when the decision will become official.

Ban On Mining Near Grand Canyon Extended (Reuters)

Another Republican Global Warming NON-Denier Enters the 2012 Race:
Really, Really Bad News For the World's Oceans:

Ocean life on the brink of mass extinctions: study (Reuters) [emphasis added]:


Life in the oceans is at imminent risk of the worst spate of extinctions in millions of years due to threats such as climate change and over-fishing, a study showed on Tuesday.

...

"We now face losing marine species and entire marine ecosystems, such as coral reefs, within a single generation," according to the study by 27 experts to be presented to the United Nations.

"Unless action is taken now, the consequences of our activities are at a high risk of causing, through the combined effects of climate change, over-exploitation, pollution and habitat loss, the next globally significant extinction event in the ocean," it said.

Oceans at Dire Risk, Team of Scientists Warns (NYT Green)
Oceans on brink of catastrophe: Marine life facing mass extinction 'within one human generation'. State of seas 'much worse than we thought', says global panel of scientists. (UK Telegraph)
State Of The Ocean: 'Shocking' Report Warns Of Mass Extinction From Current Rate Of Marine Distress (Huffington Post Green)

More Recent Evidence Of Accelerating Climate Change:

Bad News for Oceans Is Good News For Climate Change Denial Industry:

Climate Science Takes Another Spin Through The Fox Cycle (Media Matters.org):


The correction, as Media Matters documented, is a standard scientific procedure about which there is "nothing controversial," to borrow the words of one leading climate scientist. Taylor, however, seemed to think that he caught a climate scientist announcing via the internet how he was tampering with his data.

As the story made the subtle transformation from overt right-wing activism to Fox News "journalism," important details were left by the wayside. Fox News' Lott contacted Nerem, who told Lott that "this is a scientifically well-understood correction" that is used by other groups, but that key bit of information never made it into the final story.

Fox News Maligns Scientists With Baseless Accusation Of "Doctoring" Sea Level Data (Media Matters.org)

Inspiration and Dedication From the Antidote To Cynicism, Van Jones:

'GREEN NEWS EXTRA' (Stuff we didn't have time for in today's audio report)...