Guest Blogged by John Gideon of VotersUnite.org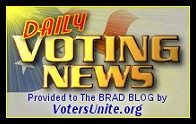 For all of you paraskevidekatriaphobiacs or triskaidekaphobiacs this may not have been a very good day. For all the rest, hope you had a Happy Friday the 13th.
The chances of Norm Coleman taking back his lead over Al Franken in the Minnesota Senatorial race have taken a long step back today with a ruling from the recount trial judge that lowers the number of rejected absentee ballots that can be recounted. ...
**"Daily Voting News" is meant as a comprehensive listing of reports each day concerning issues related to election and voting news around the country regardless of quality or political slant. Therefore, items listed in "Daily Voting News" may not reflect the opinions of VotersUnite.Org or BradBlog.Com**