Guest Blogged by John Gideon of VotersUnite.org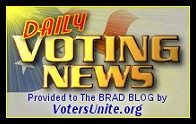 The Pew Center on the States has just released a report on military and overseas voting (our featured article). This report "found that more than a third of states do not provide military voters stationed abroad with enough time to vote or are at high risk of not providing enough time. An additional six states provide time to vote only if their military personnel overseas return their completed absentee ballots by fax or e-mail—a practice that raises important questions about their access to this technology and the privacy and security of their votes." This report also adds to the growing body of scientific/academic research that all agrees that sending completed ballots via the Internet is not a good plan.
The report is well worth reading for those who are concerned about the votes of our military personnel and overseas voters in general. ...
**"Daily Voting News" is meant as a comprehensive listing of reports each day concerning issues related to election and voting news around the country regardless of quality or political slant. Therefore, items listed in "Daily Voting News" may not reflect the opinions of VotersUnite.Org or BradBlog.Com**