Guest Blogged by John Gideon of VotersUnite.org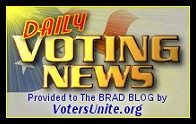 Posted on Thursday is the featured blog by New Jersey computer scientist Andrew Appel. In the blog and linked video Professor Appel shows how easy it is to remove and replace new security seals installed on the machines in New Jersey by Sequoia and the state. The professor also points out that the addition of these security seals is just another smoke-screen from Sequoia. It took him 7 minutes the first time he removed and replaced the seals.
This weekend also finds more from Minnesota including an article by one of the non-partisan observers to the whole recount procedure. Good job by all who have been involved in that process.
We also have an article about Buddy Johnson, the soon to be out of work Hillsborough Co Florida election supervisor who has now dropped his request for $2.3M to cover cost overruns in this past election. Could it be he is nervous that the county has threatened to audit his office to find out how they spent their money? ...
**"Daily Voting News" is meant as a comprehensive listing of reports each day concerning issues related to election and voting news around the country regardless of quality or political slant. Therefore, items listed in "Daily Voting News" may not reflect the opinions of VotersUnite.Org or BradBlog.Com**