Guest blogged by David Edwards of Veredictum.com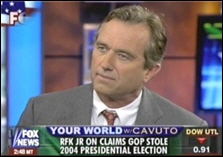 Video in Streaming Flash format...
Video in Windows Media format...
Yesterday, Robert Kennedy appeared on Fox's Your World with Neil Cavuto.
Neil Cavuto didn't give Robert Kennedy the chance to finish a thought or make a point. It was the same old hostile wingnut tactics of distractions, diversions, interruptions and unrelated questions.
Cavuto actually questioned Robert F. Kennedy Jr's integrity based on the 48 year old election of his uncle, President John F. Kennedy. At that time, Robert Kennedy Jr. was only 8 years old. Cavuto asked,
"On this day 38 years ago you had to deal with the loss of your dad. I say this with the utmost respect. Should a Kennedy whose uncle had a very controversial win --- that some say was stacked with dead people voting in the city of Chicago --- be the one to talk about fixing elections?"
ADDITIONAL THOUGHTS FROM BRAD: I love how these guys keep saying we shouldn't look back at '04, and then they look back 48 years ago to try and bash RFK's article on '04 (which is as important in re: it's implications for '06 and '08 as anything else). Not to mention, the 1960 JFK "stolen election" canard is exactly that, a canard. Here's some background which also shores up RFK's point to Cavuto that JFK would have won even without Illinois in 1960. But why dally on actual facts in having these sorts of debates?