Guest blogged by David Edwards of Veredictum.com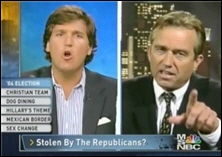 Video in Streaming Flash format...
Video in Windows Media format...
Tucker Carlson hosted Robert F. Kennedy Jr. last night on MSNBC's The Situation. Kennedy has written an extensive new article in Rolling Stone which exposes how the the Republicans planned, coordinated and executed a plan to subvert the will of voters and put George Bush back in the White House.
As usual, Carlson conducts the interview with the attention span and intellect of a 3-year old (and that may be an insult to 3-year olds). Before Kennedy is allowed to speak, Tucker begins pulling out thinly veiled Republican and corporate media talking points designed to halt any post-election debate. In his lead-in, Tucker says, "Is it really possible that a conspiracy of this magnitude has been kept quiet this long?" Seconds later, turning to Robert Kennedy, Tucker asks, "You are alleging a massive (Carlson's emphasis) conspiracy to, as you put it, fix the 2004 election. A conspiracy of this size would have required the complicity of literally thousands of people. Why have none of those people come forward to admit they were part of it?"
By ignoring the evidence and repeatedly putting together words like "conspiracy" and "massive", Tucker uses one of the first and favorite talking points for those wishing to discourage the truth about Republican electioneering. Tucker implies that a conspiracy to steal a presidential election is logistically impossible. Anyone who believes such theories are irrelevant "crack pots", internet kooks, partisans and wear tinfoil hats to block out the mind control signals.
Tucker's next trusty talking point minimizes the evidence: "I have no doubt --- and I don't think that anybody would --- that there were voting irregularities in this election as there are in any election. Probably some crookedness, again, as there are in any election ." Carlson is implying that liberals, frustrated by Kerry's loss, are blowing normal election imperfections way out of proportion.
Tucker Carlson continued an assault on Kennedy and his article throughout the short interview. Kennedy fights for time to respond and does a good job indicting the media (and Tucker) for ignoring a very obvious problem. Tucker responds by saying that if the stolen election were real then it would have been a news story --- as if truth and reality only exists if the media reports on it.
In the end, Robert F. Kennedy Jr., managed to remain poised and believable. This interview alone may have done little to prove to MSNBC's viewers that there is significant evidence of a stolen election --- but the piece did prove one thing to us: Tucker Carlson is a complete ass.
UPDATE FROM BRAD: Speaking of complete asses... Wolf Blitzer is scheduled to interview RFK Jr. tonight at 7pm ET (4pm PT) on The Situation Room.