Guest blogged by David Edwards of Veredictum.com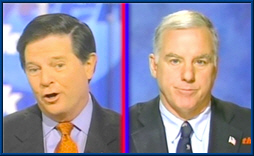 Video in Streaming Flash format...
Video in Windows Media format...
We posted this video from ABC's This Week at Crooks and Liars yesterday. If you are a fan of DNC Chairman Howard Dean then you'll enjoy this video. For those that get physically sick at the sight of DeLay, you might want to skip the first 5 minutes.
Outgoing, indicted and disgraced Republican Rep. Tom DeLay spews the same hate-filled attacks on Democrats that we've heard for several years now. DeLay still manages to brandish the freshest Republican talking points.
Most notable was DeLay's attack on John Conyers' concerns that President Bush may have committed impeachable offenses. The Republicans believe that they can motivate their party to get out to the polls in November to save their favorite President from certain doom if the Democrats take control.
Howard Dean largely ignores DeLay's bluster. Chairman Dean has really improved the focus and delivery of his message. Dean doesn't dodge the tough questions. He delivers clear answers, straight talk and real hope the the American people. Having DeLay and Dean on the same segment really exposes the great disparity in the quality of their character.