Guest blogged by David Edwards of Veredictum.com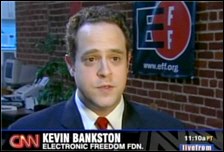 Video in Streaming Flash format...
Video in Windows Media format...
On April 7th, Wired News first reported on a class action lawsuit filed against AT&T by the Electronic Frontier Foundation (EFF). AT&T is accused of allowing the NSA to monitor phone and internet communications without a warrant.
An AT&T whistleblower, Mark Klein, has come forward with testimony and documentation. Klein provides specific details about how the spying program intercepted AT&T customer communications. The NSA installed "secret rooms" in AT&T switching centers throughout the country. Live communications signals are split off into the secret room. Powerful data-mining computers installed in the room can sift through the millions of live signals.
CNN put together this short video report including comments by an EFF attorney.