Guest blogged by David Edwards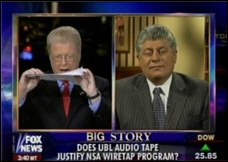 Fox News analyst Judge Andrew Napolitano says that the new Bin Laden tape is no excuse to subvert the constitution and conduct illegal wiretaps on Americans as the Bush Administration has been doing since before 9/11.
Of course, John "freedom hater" Gibson called the new Bin Laden tape the "trump card" in the argument for allowing unconstitutional spying and the Patriot Act.


Video in Streaming Flash format...
Video in Windows Media format...