Robert Novak is Back: 'President Knows Who the Source Is'
Guest blogged by David Edwards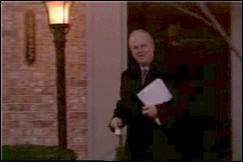 If reporters and cameras greet you as you leave for work in the morning then you are probably in the media's spotlight. Karl Rove found himself in that familiar situation this morning and it's making some Republicans a little nervous.
As MSNBC's David Shuster says in the following clip, Viveca Novak's testimony did little to help Rove. Robert Luskin, Rove's attorney, has predicted that Viveca Novak's testimony about indirectly reminding Rove of a conversation with Time's Matt Cooper would explain why Rove's initial testimony to the grand jury didn't include those conversations in which Rove revealed the identity of a CIA agent.
-- Video in Windows Media format...
-- Video in QuickTime format...
-- Audio in MP3 format...
If reports are correct then Viveca Novak's testimony did little or nothing to bolster Rove's case. It also doesn't explain why Rove took 5 months after being "reminded" of his conversation with Cooper to notify the grand jury. An article posted at The Raw Story says that Special Prosecutor Patrick Fitzgerald is presenting additional evidence to the grand jury today.
The other unrelated "Novak" popped out of his hole long enough to stir up some more controversy in the CIA Leak investigation. As reported by The News & Observer, Robert Novak, who was first to disclose the identity of CIA operative Valerie Plame in the press, said the president knows the identity of the individual in the White House who leaked Plame's identity.

"I'm confident the president knows who the source is," Novak told a luncheon audience at the John Locke Foundation in Raleigh on Tuesday. "I'd be amazed if he doesn't."
"So I say, 'Don't bug me. Don't bug Bob Woodward. Bug the president as to whether he should reveal who the source is.' "
UPDATE from The Raw Story: Special Prosecutor Fitzgerald did not meet with the grand jury today as expected. Sources (vague as they are) report that Fitzgerald did "move forward" with the case.